Columbia Global Centers | Istanbul ve İstanbul Film Akademi, sizi dünya sinemasının tartışmasız üç klasiğini ele alacak "Klasikleri İzlemek" serisine davet ediyor. Columbia Üniversitesi Film Profesörü ve New York Film Festivali Emeritus Direktörü Richard Pena ile film tarihinin akışını değiştiren Citizen Kane (1941), The Rules of The Game (1939) ve Late Spring (1949) filmlerini daha yakından keşfedebilirsiniz. Pena'nın her hafta bir klasiği ele alacağı bu seri, bir yandan bu filmleri estetik, ekonomik, teknolojik ve sosyo politik bağlamında ele almaya, diğer yandan da yönetmenlerin kullandığı tekniklerin estetik ve teknolojik seçimlerinin sonuçlarına odaklanacak. 
15 Haziran 2021 Salı 20:00 – 21:30 CITIZEN KANE – Orson Welles
22 Haziran 2021 Salı 20:00 – 21:30 THE RULES OF THE GAME – Jean Renoir
29 Haziran 2021 Salı 20:00 – 21:30 LATE SPRING – Yasujiro Ozu
Eğitim dili ingilizcedir. Türkçe simultane tercüme yapılacaktır.
Zoom programı üzerinden canlı yapılacaktır.
3 hafta toplam ücret 45 dolar – 375 TL
Watching the Classics
Watching the Classics will be a series of illustrated lecture/discussions on three undisputed classics of world cinema. Each week, Richard Peña (Professor of Film Studies at Columbia University and Director Emeritus of the New York Film Festival) will attempt to place a given film within its aesthetic, economic, technological and social/political context, detailing each director's formal techniques while teasing out the implications these aesthetic and technological decisions. Participants will be asked to see the films before each lecture (all are easily available through various streaming services); during the lecture, select images and clips will be included. Participants will be able to send Prof. Peña questions, which will be addressed at the end of each session. Join us for this chance to revisit some of your favorites films—or to discover works that have helped change the course of film history.
CITIZEN KANE, 1941, Orson Welles, USA – Inheriting a vast mineral fortune, Charles Foster Kane (played by Welles himself) becomes a national figure, a media tycoon with access to presidents and kings before escaping into a self-imposed isolation in his dream-like mansion, Xanadu. A true watershed of film history, KANE popularized a fragmented story-telling style that sought to change the relationship between the spectator and the screen. His use of deep-focus cinematography—keeping several planes of action simultaneously—would help transform the visual style of Hollywood. Yet beyond its extraordinary aesthetic achievements, KANE is also a moving, perceptive look at the consequences on himself and those close to him of an unstoppable "will to power."
THE RULES OF THE GAME, 1939, Jean Renoir, France – Despite the enormous challenges French cinema faced in the 1930s—economic, technological, social—the period stands as one film history's richest, most remarkable and best loved. Son of the famous Impressionist painter, Renoir led the way in France in the development of an alternative approach to filmmaking, one that emphasized an incredibly mobile camera and shots of long duration. A film, according to Renoir, about a society "dancing on the edge of a volcano," this searing portrait of jealousies and intrigues of French high society (not to mention its servants) was considered so scandalous that it was immediately banned after the German occupation in 1940. 
LATE SPRING, 1949, Yasujiro Ozu, Japan – When the world "discovered" Japanese cinema in the Fifties, the two directors who shot to stardom were Kenji Mizoguchi and Akira Kurosawa; although Ozu was hugely respected and very successful, his works were simply considered "too Japanese" to be of interest for international audiences. Yet, today Ozu has come to practically stand for Japanese cinema, his films acclaimed as influences on artists ranging from Abbas Kiarostami to Jim Jarmusch to Elia Suleiman. One of his most perfect works, LATE SPRING created the model for Ozu's "marriage story," an account of a young woman's often problematic relationship with her father as she heads towards marriage—a story to which Ozu would return many times in the ensuing years.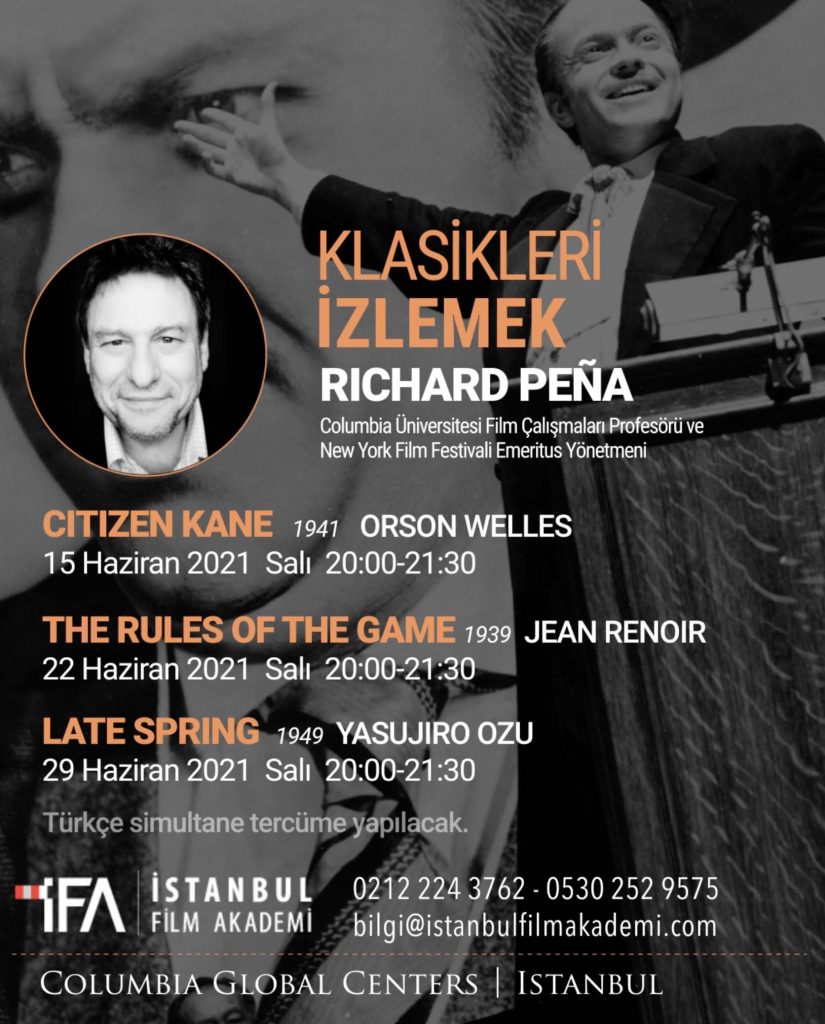 Login
Accessing this course requires a login, please enter your credentials below!